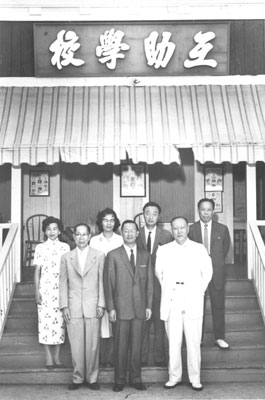 Hoo Cho Shool is one of the oldest chinese schools in Hawaii. Originally an offshoot of Hoo Cho Sha Society, it was created nearly a century ago to teach the children of the Chinese immigrants who came from Canton to work on Hawaii's sugar cane plantations. Many older Chinese in Hawaii fondly remember running through Hoo Cho's original location in Liliha as children. Then in the mid-70's, Hoo Cho found a new permanent location in Palolo Valley, to cater to the needs of the small Kaimuki neighborhood.
學校拥有校舍和校產,設有校董會,校長和教員。校董會有正,副董事長和董事。學校的重要事情和决策均由校董會商討决定。學校的教員都具有中國大學畢業的資格,有豐富的中文教學經驗。
Throughout its history, Hoo Cho has fought hard to maintain its charter to perptuate the Chinese language and culture for future generations. While other Chinese schools closed down, Hoo Cho remained as a small but strong independent entity. As times changed, Hoo Cho has adapted, such as teaching Mandarin, which has become important to do business with modern China, as well as maintaining the Cantonese language of our forebearers. Hoo Cho is also one of the only Chinese Schools to implement a computer training facility, to teach Chinese word processing as technology evolves.
本校上課時間是每週上課五天,星期一至星期五 每天下午上課。譲學生每天都有時間接觸中文。本校同時教授國語和粤語。
---
Mahalos to the Honolulu Chinese Jaycees' hard work for the 2010 Adopt-A-School Day!
Check out their first years efforts in 2009